Our New Ambassador – Fiona Kilby
The AMRF is delighted to announce the appointment of our newest Ambassador Fiona Kilby. Fiona is a mother of two and works at the National Archives of Australia in Canberra, but her passion is trail-running. It was on one of her training runs with her coach that Fiona noticed she couldn't start the timer on her watch. The next morning, she couldn't move her arm and a week later, Fiona had a 3.5cm lesion, eventually identified as a stage 4, metastatic melanoma, removed from her brain. Skin and eye checks failed to find the source of Fiona's melanoma. Subsequently, further lesions were found and removed.
Fiona is now in remission and receives ongoing immunotherapy. She views her recovery and treatment like one of her trail runs. "There are uphills and downhills, although there have been some very hard and intense days," Fiona said.
Fiona has been supported by her husband and children but also by her second family – her trail running mates. The group was shocked at Fiona's diagnosis as they were surprised someone so young, fit and healthy who practiced good sun protection regimes and ran in the early mornings could get melanoma.
Fiona is helping AMRF raise funds and spread the important messages about the dangers of melanoma.
For more details about Fiona and her journey go to How trail running helped Canberra woman Fiona Kilby overcome stage four melanoma – ABC News.
Inaugural Ambassador - Glenda Thomson
Glenda Thomson was honoured and overwhelmed when she was named the AMRF's inaugural ambassador at Melanoma March 2015 in Adelaide. The accolade is reward for her tireless efforts to educate and raise awareness about the dangers of melanoma.
Glenda's son Aaron Thomson was just 27 when he died from melanoma in 2011. After Aaron was diagnosed he made a video warning people about the dangers of melanoma, and the importance of acting on its signs and pursuing diagnosis. In the last months of his life he passionately worked to spread that message and now Glenda continues his work.
Glenda said promoting the video had helped her in the healing process. Since 2012 Glenda has travelled much of SA and interstate, using the video to increase awareness about men's health. She has conducted presentations to a variety of groups including netball and football clubs, from local to SANFL, and even the Crows and Port Power Clubs.
Mining sites have also been targeted along with rotary clubs, universities, hospitals, schools, forums and various other events.
Glenda has gained a lot of satisfaction from providing her presentations, particularly because quite a few melanomas have been diagnosed along the way.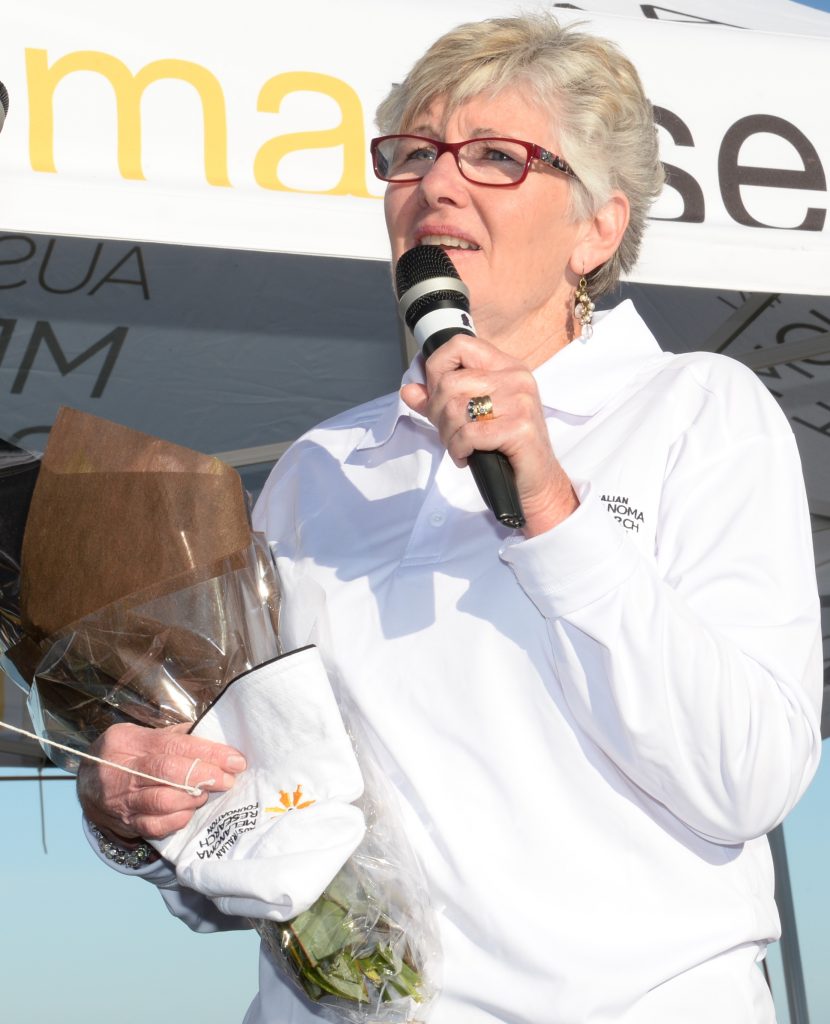 RISK OF BEING
DIAGNOSED WITH
MELANOMA BY THEIR
85TH BIRTHDAY
(MEN)
RISK OF BEING
DIAGNOSED WITH
MELANOMA BY THEIR
85TH BIRTHDAY
(WOMEN)
ONE PERSON
IN AUSTRALIA
DIES FROM
MELANOMA
EVERY FIVE HOURS
OF PEOPLE
RECOGNISE
THAT TANNING
ACCELERATES
SKIN AGEING